This time it's about the Steiner Ranger 4-16×56 BC, where BC stands for Ballistic Control.
First of all, there are also other variants from the Steiner Ranger ZF series with different magnifications:
1-4×24
2-8×42
2,5-10×50
3-12×56
4-16×56
Because of the available hunting opportunities in our hunting area, we chose the 4-16×56 BC because we use separate optics for driven hunting and this glass was the best choice for the shooting distances we have.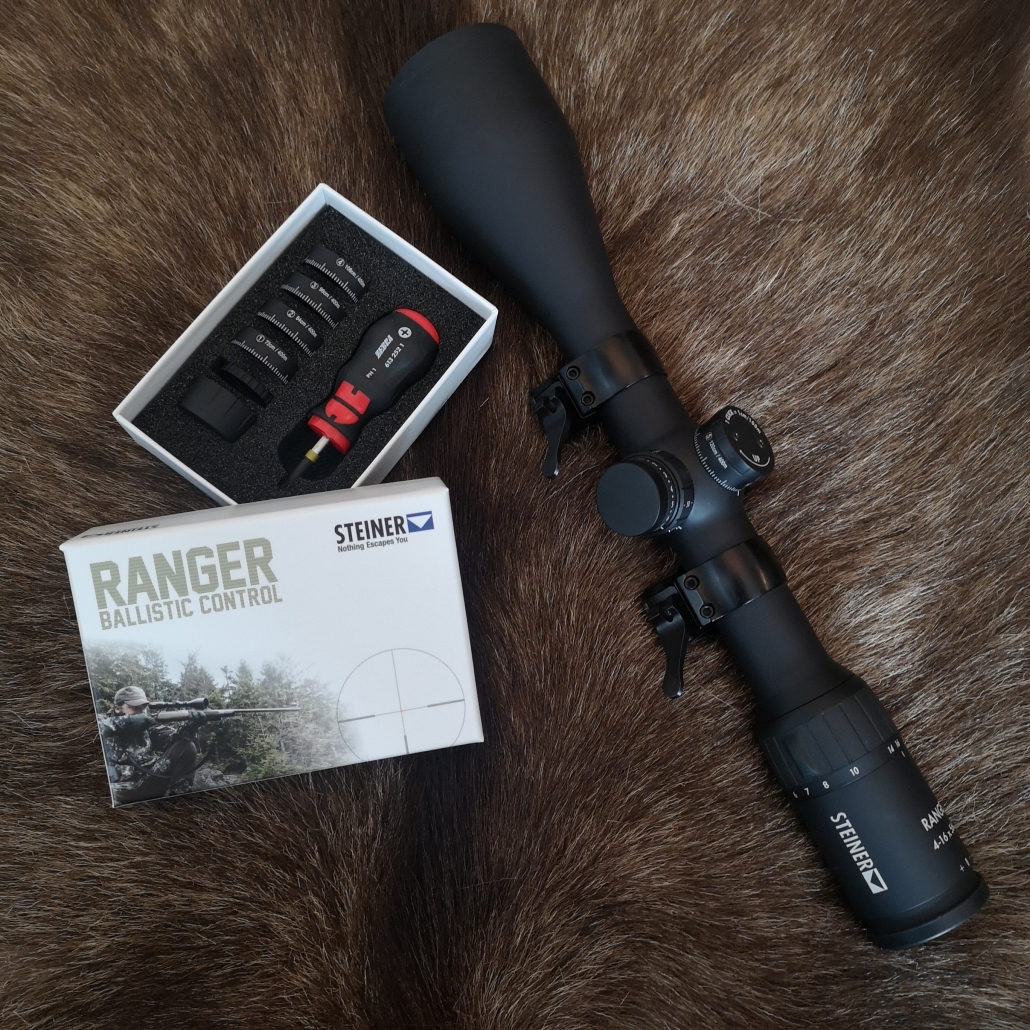 As usual for Steiner, the glass is well packed and all tools that are needed for the scope are in the box. So you can start right away. The scope can be mounted on the rifle by using a standard 30mm ring mount. We are using one from EAW.
The glass has a diopter adjustment at the back of the eyepiece from -3 to +2.
The adjustment ring for the magnification from 4-16 is also located on the eyepiece.
In our opinion, it has a very pleasant feel and is easy to use.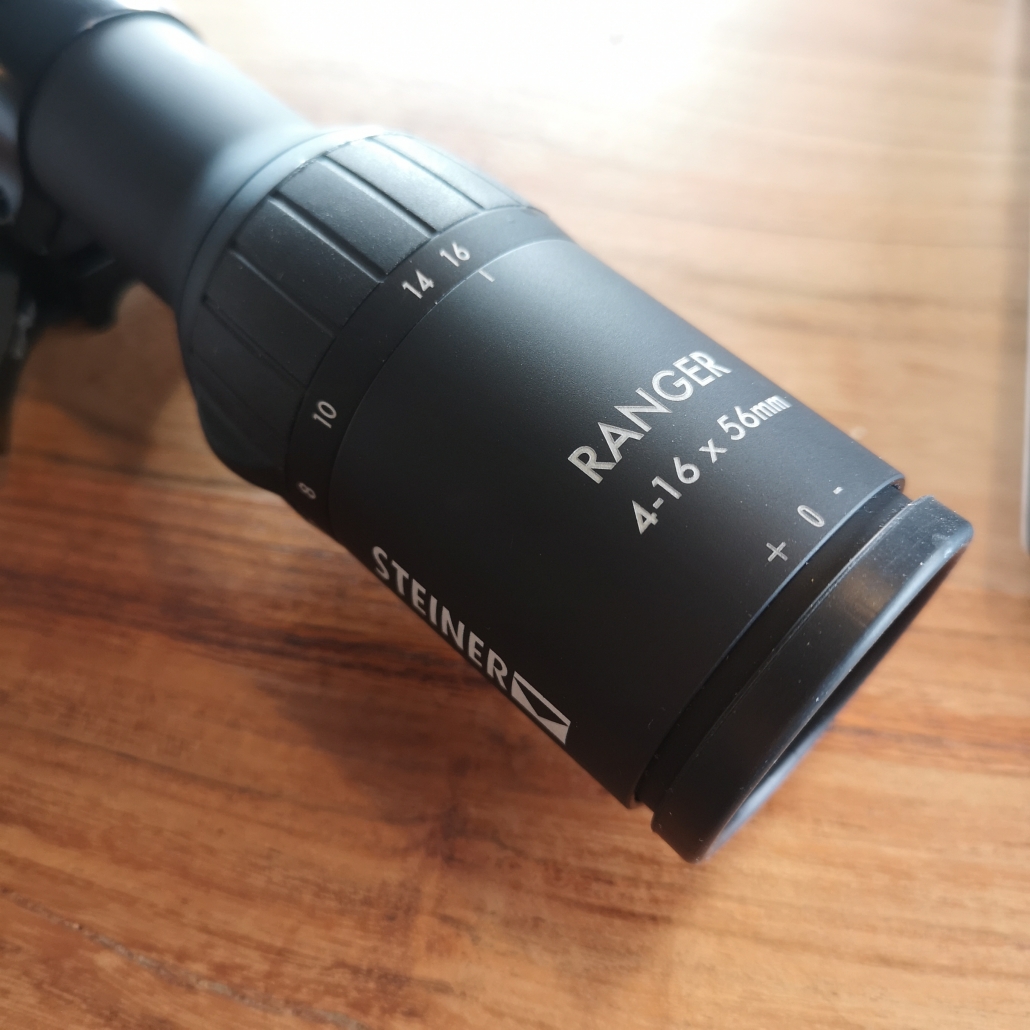 The illuminated reticle on the left of the turret can be adjusted in 11 steps.
There are 5 different brightness levels for the day and 6 different for the night.
The point is nice, round and very fine.
Parallax compensation is also located on the same tower, which is adjustable from 50 to infinity.
Steps: 50 100 200 300 400 500 infinity.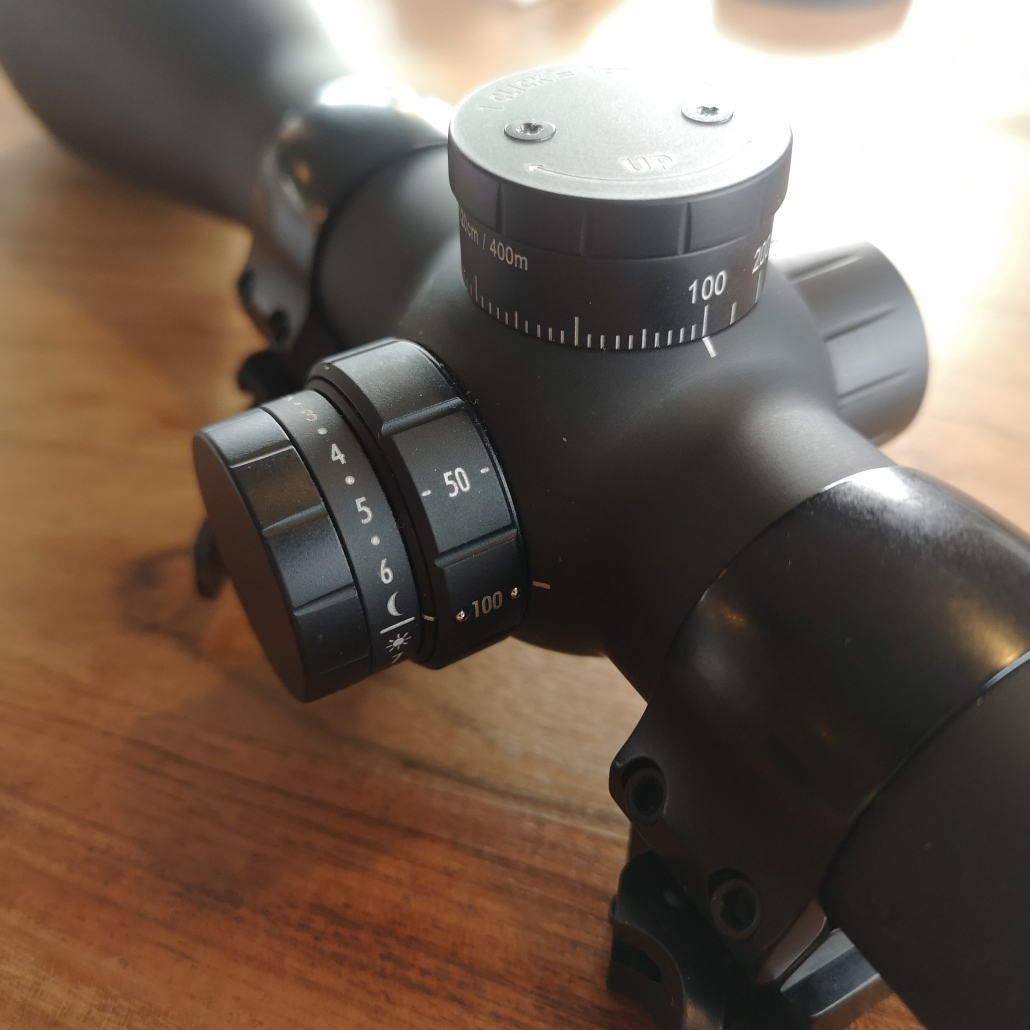 The right turret is for the side adjustment and the top tower is of course for elevation adjustment. Since we chose the variant with Ballistic Control, the quick reticle adjustment is mounted on top. Depending on the caliber and ballistic, you can choose the right ring for the ballistic control.
If you have the right one, the meter scale already matches correctly to the required clicks.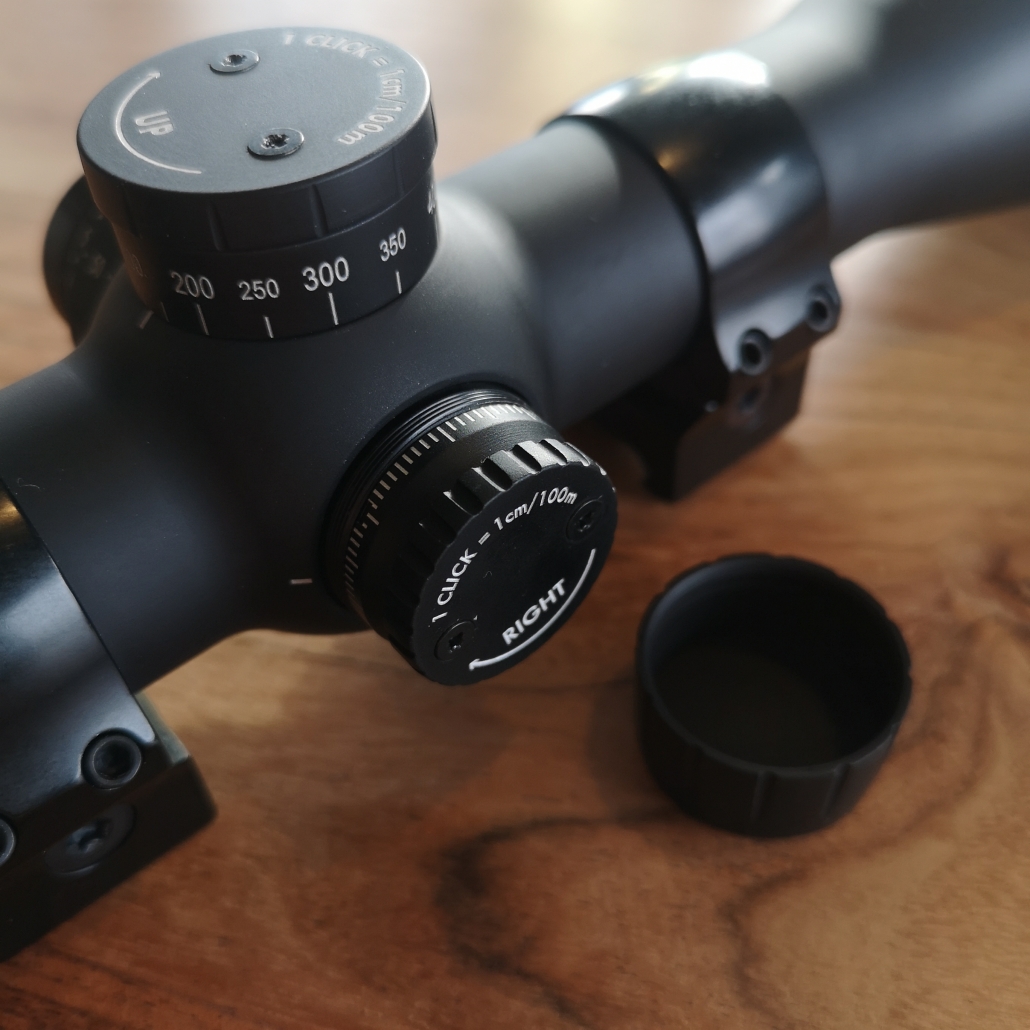 5 different rings are included, which have a bullet drop range from 72cm/400m to 120cm/400m.
Our conclusion: We are very satisfied with the optics and think, really good performance at a good price.
More Information here: https://www.steiner.de/de-de/de_DE/cat/Produkte-10986/Jagd-10912/Zielfernrohre-10916/Ranger-10924/prod/Ranger-4-16×56-199440/
Specification:
Objective tube diameter:56 mm
Magnification min. / max.: 4x / 16x
Weight: 680 g
Length: 375 mm
Temperature range: -25°C to +63°C
Exit Pupil: 9,2 – 3,5 mm
Field of view at 100 m: >=10 -2,5 m 
Eye relief: 90 mm
Diopter setting: -3 to +2
Parallax free: 50 m to infinity
Reticle: 4A-I
Reticle position: 2nd focal plane
Reticle adjustment per click at 100 m: 1 cm
Max. elevation / windage at 100 m: 72 cm / 72 cm
Center tube diameter: 30 mm
Ocular diameter: 40 mm
Reticle illumination 11 levels (5x day, 6x night)
High-Performance-Optics
High-Contrast
Water-pressure proof: Up to 1 Meter
STEINER nitrogen filling: Yes
Accessories Protective objective and ocular covers Warranty: 10 years 2 years on electronical parts