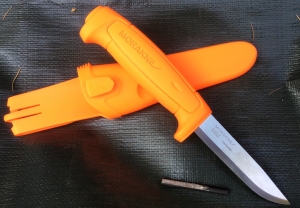 The Mora knive Basic 546 Craftline is an affordable multi purpose knife. Due to the colour orange of the grip and sheeth it can be easiliy found if lost.
It comes with a stainless steel blade of a lenght of 9,1 cm and a thickness of 2 mm. The blade is razor sharp out of the box. To protect your fingers the grip is formed in a way that prevents slipping into the blade and getting injured.
The sheath is made of sturdy plastic and comes with a belt clip. Though the sheath isn't ambidextrous the price point is very competetitve. At the end of the sheath their is also a drainage hole.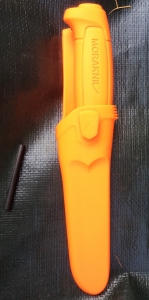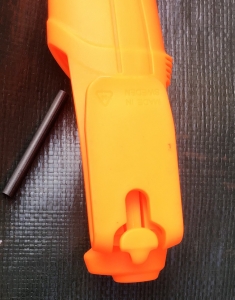 With a fire steel it is possible to ignite a campfire or your bbq. This can be done when combustable material like a cotton ball is used.